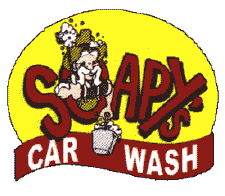 Soapy's Car Wash
Soapy's Car Wash is Whitehorse's newest state of the art coin-op carwash featuring multiple wash bays large enough to clean your car, truck, RV or even tractor-trailer unit . Soapy's also features the ExpressKey System for convenient and affordable vehicle cleaning.

What is an ExpressKey?
An ExpressKey is a key that can be pre-loaded with any amount of credit for use in our carwash. Once you have your key simply drive into one of our wash bays and insert the key into the control console. As you wash vehicle, your key is debited for the amount of time you use. When the key is empty, simply drop into our office and "refill" the key with additional funds.
Why use an ExpressKey?
No fumbling for loonies or toonies!
No messing with a bill changer or cashier!
No running to the attendant half way through the wash cycle!
Simple sign up process!
They can be used over and over again!
Key's value can be set for any amount!
The wash system will warn you when your key is getting low!
Prepaid keys available for consumers as well as corporate keys for businesses!
In addition ExpressKeys are extremely durable.
they cannot be damaged by water, dirt, shock, sand or even static electricity!
they can retain their data for over 10 years!
Please stop in to Soapy's Carwash today for the ultimate cleaning experience.